Frequently asked questions
Jewellery material
The main material used in making this jewellery is 316L stainless steel, which is galvanically plated with 23.5-karat gold and 99% rhodium later in the creative process. The material used is harmless to health and suitable for those who suffer from allergies.
The individual components used in this jewellery (chains, earwires, lobster clasps, etc.) are made of 316L stainless steel or silver (Ag 925).
Earwires - shapes and material (stainless steel / Ag 925)
Earwires are made of surgical stainless steel or silver (Ag 925). The basic finish (stainless steel) earrings come with earwires / push backs made of 316L stainless steel, while the gold-plated finish earrings (white/yellow/rose/black gold) come with silver earwires (Ag 925), which are galvanically gold-plated with 23.5-karat gold. It is possible to change the basic earwires for lever backs, push backs or clip-on earring findings (suitable for unpierced ears). Should you wish to change the earwires for another type of earring finding, it is necessary to choose your prefered tassel colour when making an order.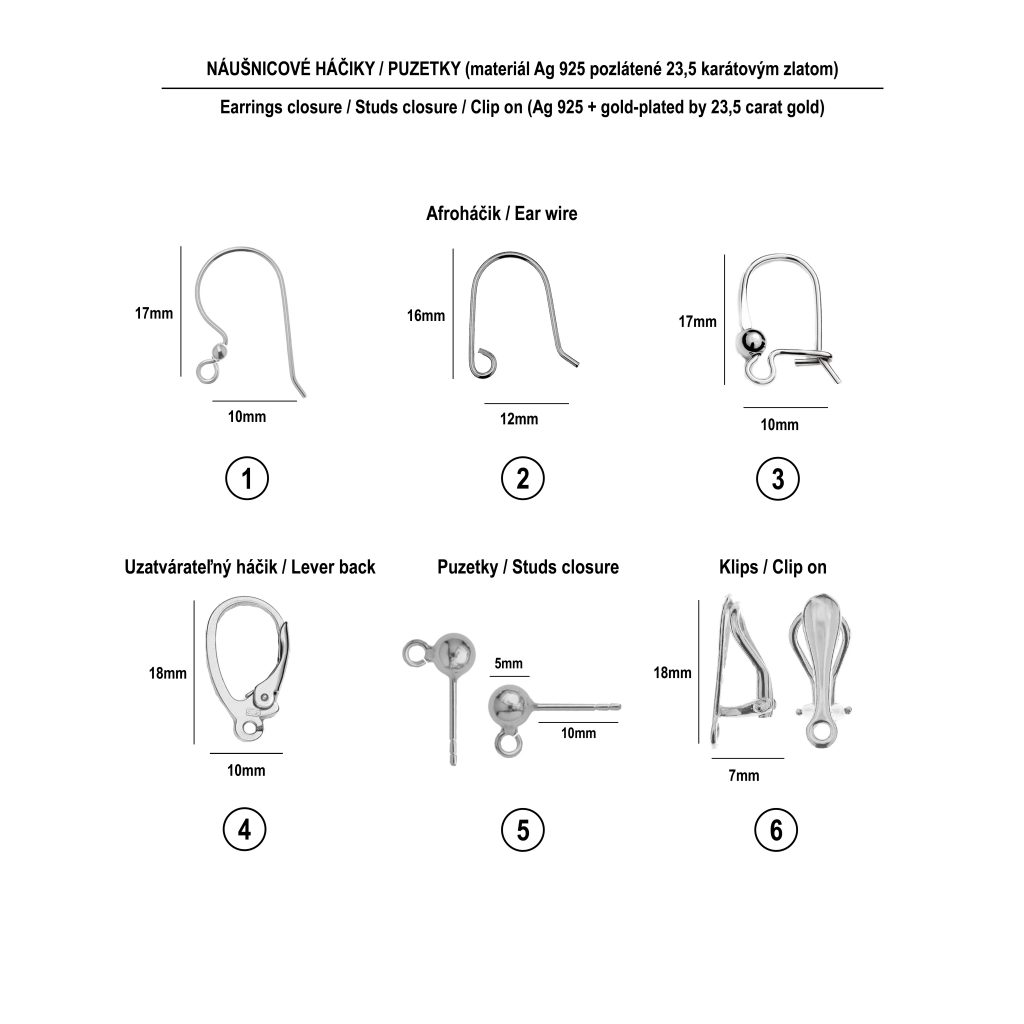 Coloured surface finishes
The jewellery is galanically gold-plated with 23.5-karat gold and 99% rhodium (yellow, white, rose, and black gold).
Thread tassels - colours
Thread tassels, which are used in several models, are available in a variety of colours. Please don´t forget to choose your prefered tassel colour when making an order.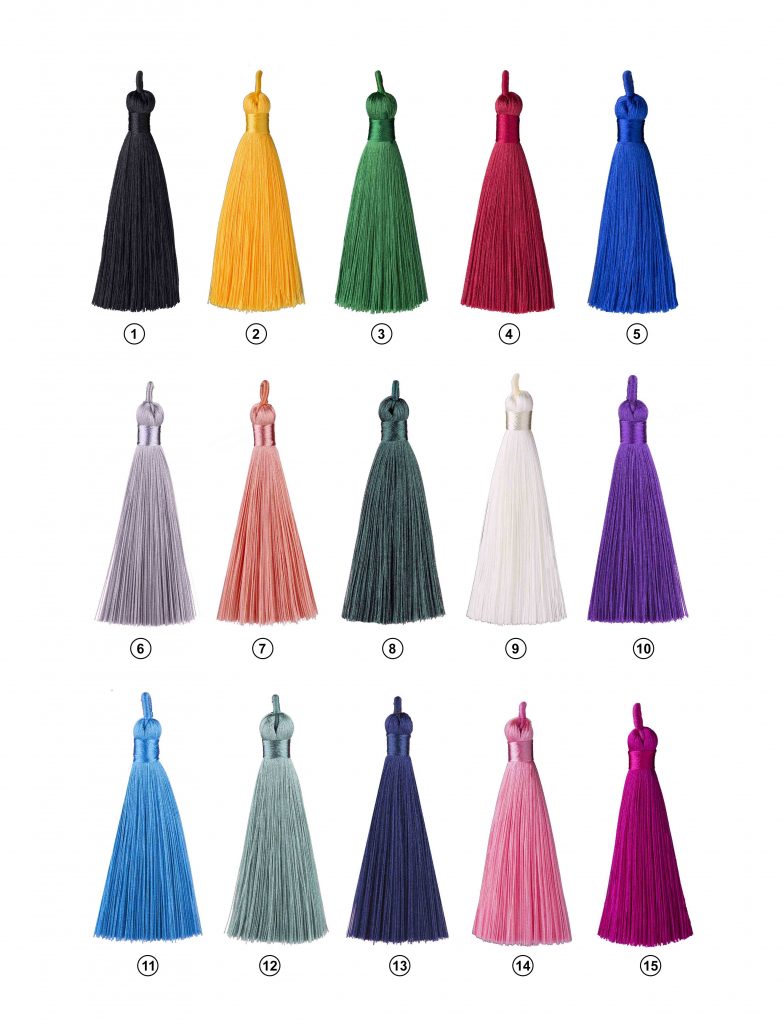 Nylon cord - colours
Nylon cords are available in a variety of colours. Please don´t forget to choose your prefered nylon cord colour when making an order.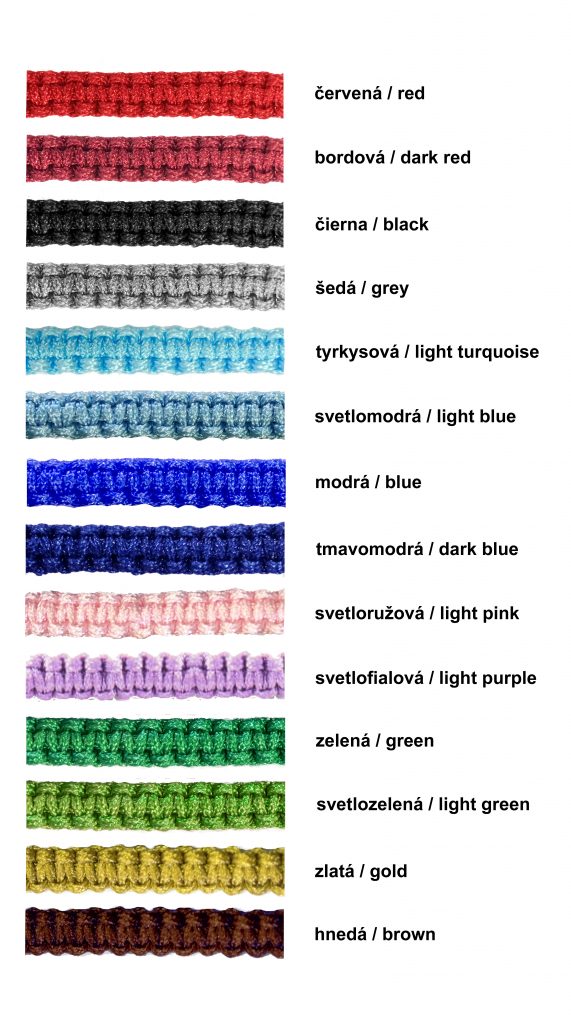 Swarovski Briolette - colours
The Swarovski Briolette glass beads are available in a variety of colours. Please don´t forget to choose your prefered bead colour when making an order.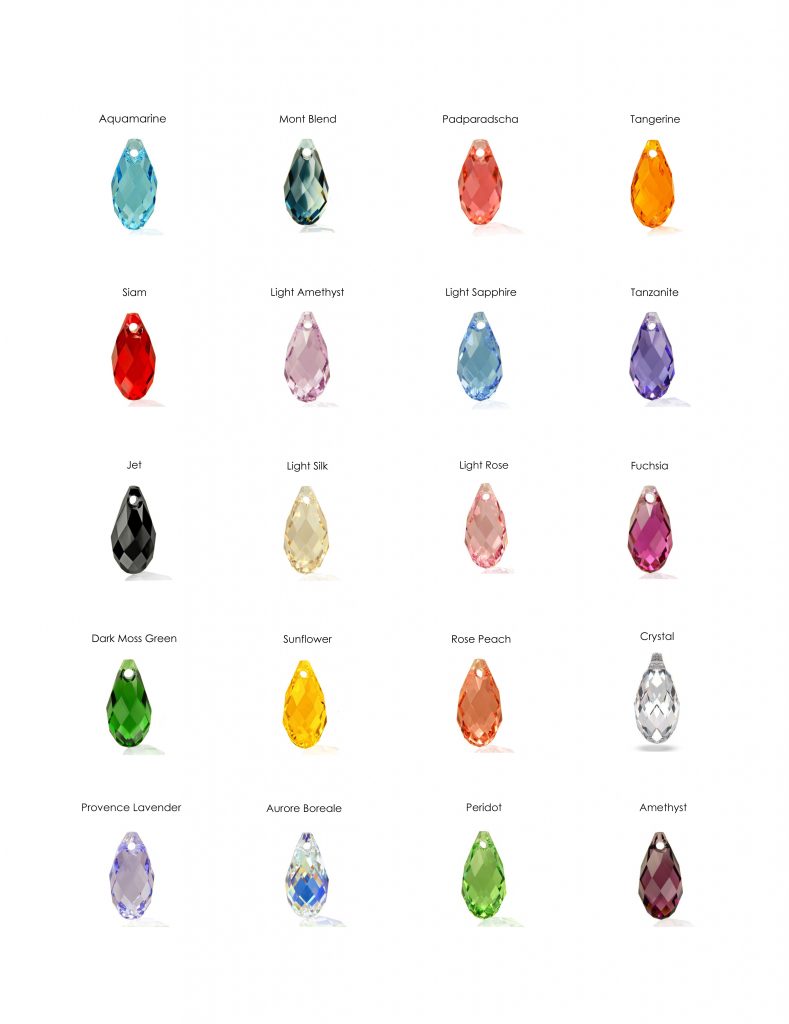 Precious and Semi-Precious stones
Please don´t forget to choose your prefered stone when making an order.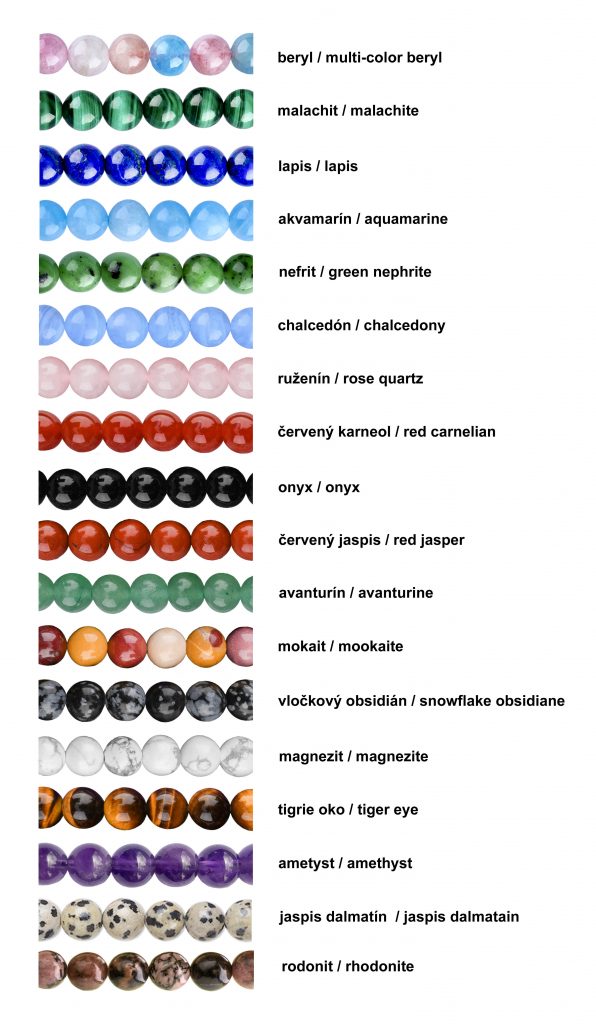 Gift boxes
Every piece of jewellery comes in a gift box. The size of the gift box depends on the size of the ordered piece of jewellery.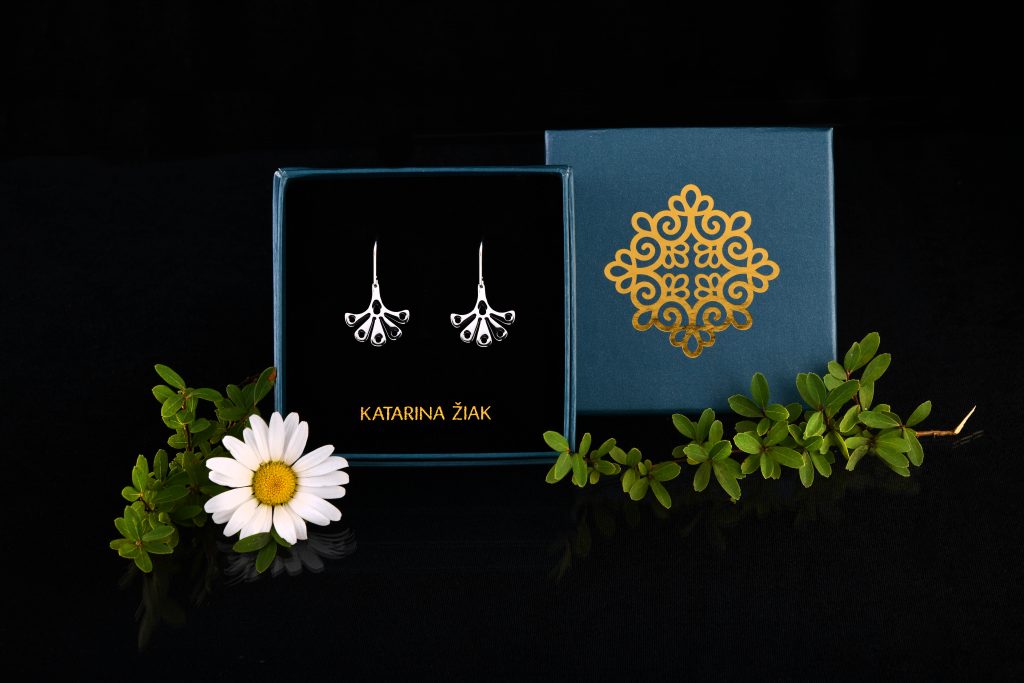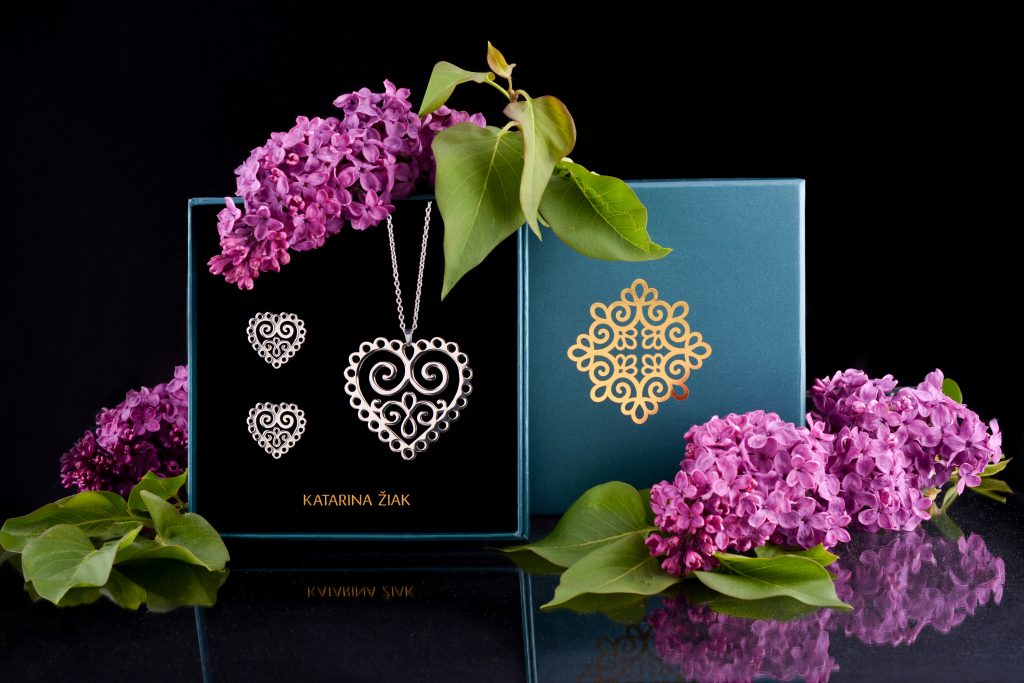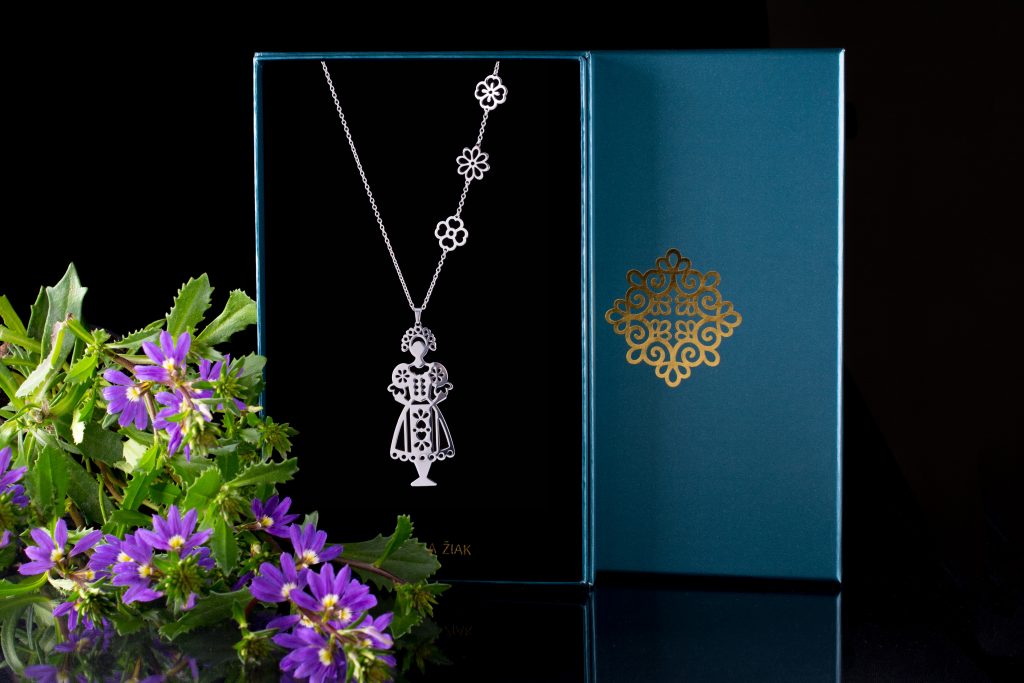 Special gift boxes
If you are interested in special gift packaging, you can choose from two types of gift boxes, which can be purchased in the e-shop. These special gift boxes are hand made and are an authentic product of Slovakia! Their material is a combination of wood, velvet, special art paper or natural cork. They can also be used as jewellery boxes to safely store your jewellery. The boxes come in two sizes: small (18x18x3cm) and large (18x27x3cm).
Delivery
The average dispatch period from Seller's warehouse to the carrier ranges from 1 – 3 business days for shipments within Slovakia, or 2 – 5 business days for international orders from acceptance of the Order; provided, however, that the Goods are in stock. Delivery of the Goods ordered shall be carried out as soon as possible depending on the availability of products and operational conditions of the Seller.
The dispatch period for the made-to-order Goods (i.e. Goods which are not in stock) from Seller to the carrier ranges from 7 – 21 business days from Order acceptance.
Payment methods
payment on delivery — pay for your goods in cash upon their receipt. POD with Slovak
Post is only available to customers in Slovakia and the Czech Republic. POD with GLS
Parcel Service or Slovak Post Express Courier service is only available in Slovakia.

payment by bank transfer — a cashless transaction by a bank trasfer to the seller's
account. Once the order has been accepted, the customer will be sent a confirmation e-
mail including payment instructions to the e-mail address provided in the order form.

The customer must specify the variable symbol (identical with the order number) in the
bank transfer. The goods will be sent to the customer once the respective sum has been
credited to the seller's account.

GoPay payment gateway — an online payment with a credit or a debit card (VISA,
VISA Electron, MasterCard, Maestro) through the secure OmniPay payment gateway; a
quick online transfer through the GoPay payment gateway with selected banks.

personal collection of goods — payment through an invoice or in cash.
Delivery methods
SLOVAK POST:

The postage applies to down payments (payment by transfer to the bank account).
The cash on delivery option may only be applied for shipments within the Slovak
and Czech Republics. All postal items are posted twice a week.
Postage and delivery period within xy business days from dispatch
of items by the carrier: EUR 4 / World: EUR 8
Slovakia: delivery within 1-2 business days; Czech Republic: 3-5 business days;
European countries: 3-5 business days; World: 5-14 business days.

SLOVAK POST – COURIER SERVICE:

Slovakia: EUR 6.00 delivery within 1-2 business days;

GLS COURIER SERVICE:

Delivery of Goods within Europe only. Prices apply to down payments (by transfer
to the bank account); cash on delivery option is only possible for the Slovak
Republic. All postal items are posted twice a week.
Postage and delivery period within xy business days from dispatch
of items by the carrier.

Slovakia:EUR 6.00 delivery within 1-2 business days;
Czech Republic, Hungary: EUR 9.15, delivery within 1-2 business days;
Croatia, Poland, Germany, Austria, Romania, Slovenia: EUR 12.00, delivery
within 2-3 business days;
Belgium, Bulgaria, Denmark, France, the Netherlands, Liechtenstein, Lithuania,
Latvia, Luxembourg, Great Britain: EUR 15.50, delivery within 3-4 business days;
Esthonia, Finland, Ireland, Portugal, Spain, Sweden, Italy, Vatican: EUR 23.00,
delivery within 4-5 business days.
Product care and warranty
Our stainless steel and 23.5-carat gold plated jewellery come with a 24 months warranty (with proof of purchase). Please note that in order for the warranty to be valid you will need to return back to us your faulty item including the packaging. We guarantee to repair or to replace the faultyitem that is proven to be defective due to manufacturing fault only. Please always handle your jewellery with attentive care in accordance with the recommendations set out in the further chapters of this user manual. The user manual forms a part of the jewellery packaging.
Our warranty will only be valid if the jewellery is proven to be defective due to the manufacturing process. The warranty for jewellery does not apply to: loss of the items, changes in appearance due to normal wear and tear, improper use or storage of the items or damage caused by chemicals or cosmetics, lack of care or accidental mechanical scratches of the surface, stones fallen out, damaged fastening caused by careless handling, torn/broken jewels, gilding  removed and damage caused by mechanical impacts. Charges may be applied for the repair of items deemed to be outside warranty.
Products with a surface finishing (gold plated) or made of multiple parts, or combined with stones, gemstones, or textile materials need to be protected from mechanical damage and from contact with water, cleaning agents,  chemicals or cosmetics. The warranty doesn't cover the damage caused by improper use, storage or cleaning of the item.
All of our jewellery pieces are made of high-quality stainless steel 316L and are subsequently plated with 23.5 carat gold or 99% rhodium. The surface is highly resistant to corrosion and adequately resilient in terms of mechanical damage. Nevertheless, it is necessary to handle your jewels with care to prevent damage of their surface.
Cleaning of the jewellery pieces made of stainless steel only or gilded (gold plated) items only (without additional gemstones or other material) – it is recommended that you clean these in mild soapy lukewarm water (no detergents and max. temperature of 30 ° C). Subsequently dry the jewellery with a fine cloth. Don't forget to rinse your jewellery in a glass of water to remove remains of the soap. Regular gentle cleaning helps to remove any oil, dust and smaller contamination and ensures that your jewellery stays looking its finest for longer. Minor contamination can be removed by using a special jewel cleaning cloth that is included in the packaging (presentation box) of the purchased jewellery.
Be careful not to come into contact with cosmetics, chemicals, excessive moisture or excessive heat, seawater, or chlorine. Jewellery should be removed before diving into a chlorinated swimming pool or before using household cleaners. This can cause damage to your jewellery. The surface layer is more susceptible to surface damage, so the jewellery needs to be treated appropriately and damage can then be avoided.
Please avoid wearing your items of jewellery in water and take extra care when applying perfume, foundation, tanning products or lotions. All of this can cause tarnishing (change of the colour of the surface).  Tarnishing may also be caused by the acidity of the wearer's skin (and direct exposure to sweat). Tarnishing is not a manufacturing fault and therefore is not covered under the warranty.
For cleaning jewellery where stainless steel (or gold plated item) is combined with other materials such as leather, gemstones, pearls, precious stones, minerals, glass corals or textile straps,please use extra care. We recommend you use the soft cloth that was included in your presentation box when you purchased the jewellery.
To ensure your jewellery stays looking fine for longer we recommend the following: 
– Designer jewels are meant to be worn on special occasions, so take them off before going to sleep, taking a shower, doing any manual work (including housework) or doing sports, etc.
– Store jewellery separately so that it does not scratch other jewellery, recommended storage is for example in separate textile bags (or boxes), away from direct sunlight, moisture, dust and extremes of heat or cold. 
– Wear with care; avoid wearing jewellery when in dusty surroundings. Avoid exposure to sea or chlorine water, and extreme heat (such as a sauna for example).
– Protect your jewels against chemical agents, aggressive sweat and cosmetics such as hairspray, creams, perfumes, etc.
– Do not  heavy handle your jewels, handle them with adequate care so that their thin parts do not bend (take care when putting on or taking off your jewels)
Starostlivosť o grafické obrazy
Grafické obrazy nevyžadujú žiadne špeciálne ošetrovanie ani lakovanie. Čistenie obrazu je možné len jeho utretím suchou mäkkou a čistou handričkou určenou na utieranie prachu.